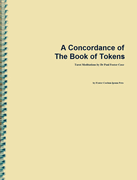 A Concordance of the Book of Tokens
Regular price
$11.00
$0.00
Unit price
per
Compiled by Frater Coelum Ipsum Peto
The Book of Tokens, Tarot Meditations
 by Dr. Paul Foster Case is one of the most important tools that have been left to students of the Western Mysteries.
The 22 major Tarot cards are called "keys," keys to understanding. By giving us meditations on these keys, and the 22 Hebrew letters assigned to them, 
The Book of Tokens
 offers guidance for using the keys to open the self to wider worlds; it is, as it were, a peep through the keyhole.
This concordance has been written to help students using 
The Book of Tokens
 to do two things. The obvious purpose is for finding passages that one has remembered or heard but is having difficulty locating in the text or quoting accurately.
The deeper purpose is to aid meditation. If a student wishes to contemplate the occult significance of a word or concept, they can find the Tarot Keys, Hebrew letters, and phrases with which it is associated. Furthermore, the concordance reveals patterns of repetition and connection between the ideas represented by the keys and the letters that would not otherwise be obvious to a reader. It can be instructive to choose a word, and follow its appearance throughout the meditations.
The concordance is bound as a spiral workbook to provide easy and repetitive use.
---